Frustration
It's hard to soar like an eagle when
you're surrounded by a bunch of turkeys.
Click on the thumbnail image below to view a poster-sized version of this image suitable for printing: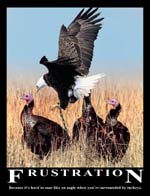 Date of Contest:
February 17, 2005
Type of Contest:
Advanced
Theme of Contest:
"Emotions"

Depict an emotion in your image. Do not make an image montage, rather make a single cohesive image (as if it were photographed), through which an emotion can easily be detected.

Awards:

All contest entries on this page are copyright 2005 by Barry S. Goldberg.